Lately, I have been completely and utterly stuck.
Life has been so full of school and things of the like that I most definitely do not want to be doing. So then, when I finally reach the end of my "to-do list of death", as I like to oh so fondly refer to it, I just want to do something I enjoy. The problem has been, I haven't been able to find any creativity to do the things that I enjoy.
Unless you've somehow managed to not be on the Internet for the past month and this is the first post that you've read, you should know that
NaNoWriMo is quickly coming up
. I'm participating for the first time, and, despite being a bit freaked out, I'm also really excited. I feel like I'm finally at a really good point to write, and so I can't wait to start getting those words on the page. But I don't want to start until November 1, so that I can get all the words in during November. So now that I actually have been
wanting
to write, I can't. Yay.
So since I can't work on my novel, my next instinct is to want to blog. Y'all, I have been going insane. I cannot seem to gain blogging inspiration for the life of me. I literally can't think of a point when my blogging block has been as bad as it's been this past month. I cannot come up with any post ideas, and it's about to drive me to drink. It's not even that I'm just too busy or too tired to blog- if I tried, I could totally make time. I just can't come up with anything to blog about.
Last night, as I was dramatically lamenting about the horrors of bloggers block and desperately attempting to figure out
something
to post, I thought back to a post that the fabulous
Abbie
wrote a few weeks ago-
How To Survive The Apocalypse Of Running Out Of Content For Your Blog.
Since I'm obviously suffering from this apocalypse, I decided to write a bit of a follow-up post. So, if you happen to be in this dreaded apocalypse right along with me, here is a list (with copious amounts of gifs) of.....
8 Completely Mature Ways To React To The Blogging Apocalypse.
- - - - -
Clearly this is the natural response. BECAUSE WE COULD ALL POSSIBLY DIE HERE WHY IS EVERYONE ELSE SO CALM?!
Chocolate solves a world of problems. Maybe it can solve the apocalypse???
3. PONDER LIFE
I don't know. I don't know anything anymore.
4. GO INTO DENIAL
Because why face your problems like a functioning human when you can pretend they don't exist to begin with?
5. BEG YOUR FOLLOWERS FOR HELP
If they are kind, they shall send you therapy waffles.
Abbie is always quite lovely about sending therapy waffles.
6. FREAK OUT EVEN MORE BECAUSE YOU NEED CONTENT
Like I don't think you understand WE HAVE A BLOG TO RUN GOSH DARNIT WE NEED CONTENT!!
7. ....WAIT- IS THAT AN IDEA??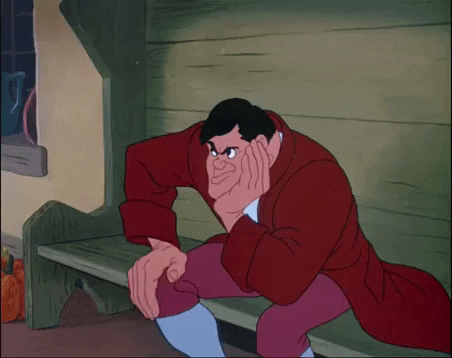 No....it can't be...is that..?
8. IT IS IT IS IT IS WE'RE GONNA SURVIVE!!!
*dances for the next ten years while eating waffles* We have officially survived this blogging apocalypse. Congratulations!
.....until next time.
- - - - -
If you aren't a blogger,
or you're just a blogger who has their life much more together than I do
, you might think that this list is slightly overdramatic. BUT THE BLOGGING APOCALYPSE IS QUITE TERRIFYING AND NOT A FUN PLACE TO BE. Hopefully this dry patch of evil goes away soon, and I still manage to keep up posting throughout the scary NaNo process.
And, in helping to get past this blogger's block, I have a request- what kind of posts would you like to see?? I'm in the pits of blogging despair, and I could really use some help- what's your favorite kind of post? HELP A GIRL OUT!!
- - - - -
So, tell me- what have YOU been up to?? I feel like I haven't talked to anyone lately!! Are YOU experiencing the blogger's block?? WHAT KIND OF POSTS DO YOU WANT TO SEE?? LET'S CHAT!!!